Adam and I each have a solo hobby that we enjoy and would like to improve upon - playing the piano for him and sewing for me. But up until last month, we hardly ever participated in those hobbies. Why? Because we'd have to take the keyboard and the sewing machine out of the closet. The few minutes of set up time was just too hard to get past. We finally realized that we'd have to figure out some way to keep them set up all the time.
An easy fix was to keep the keyboard out in the garage, but it definitely wasn't ideal conditions. So, when we saw an electric piano on Craig's List for $800 and Adam had just happened to get a bonus for the same amount, we made the plunge. We wanted an electric piano because it's sturdier and more pleasant sounding than a keyboard, but it still has volume control and headphones so he can practice while children are sleeping.
Unfortunately there was really no way to rearrange our living room to fit a piano, so it's found a new home in the playroom instead. We just took down the tent for now and moved the toy cubbies into that corner.
Adam's been playing every day since, instead of once every few weeks!
Finding a spot for a sewing desk was slightly trickier. Remember this spot in the living room?
Well, now it looks like this! We moved the coat hooks into the hall closet. We knew we'd be far less likely to put our coats away if we had to use hangers, plus this way there's still plenty of room for the vacuum, mop, and ironing board. We kept the boot tray where it is - I just have to slide it out and grab a chair from the kitchen table around the corner when I want to sew.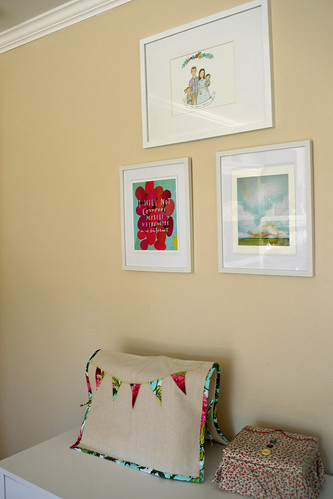 I found a
little desk
at Target that fits the space perfectly, ordered a
pretty cover
from Etsy to keep my sewing machine away from prying little fingers, and framed
two new
prints
to hang above.
I'm so glad that we've carved out these spaces in our twelve hundred square foot home!